Thinking of visiting Canada and want to see a little piece of what this great country offers? Well, a trip from Vancouver, Canada's metropolitan jewel, through Canada's Rocky Mountains all the way to Banff, Canada's premier mountain town, is a great way to see some of it's rugged beauty while first enjoying British Columbia's largest city.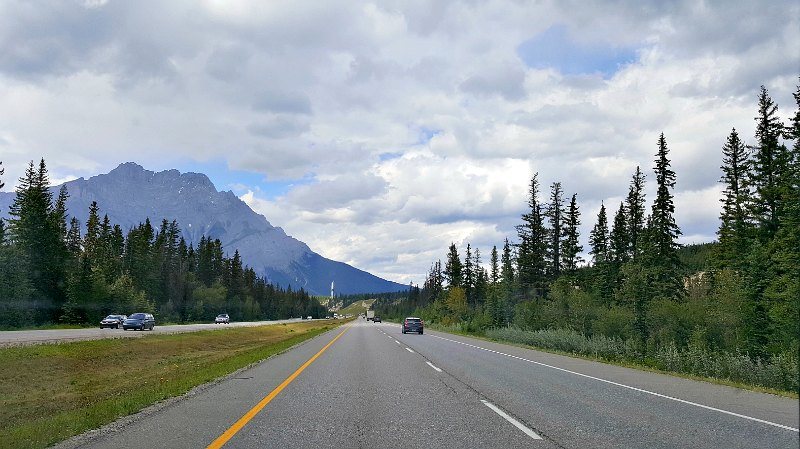 First you'll start your trip in a metropolitan paradise then along the way you'll see more waterfalls, lakes and hot springs than you can remember, a number of resort style lake towns you won't soon forget then drive through some of Canada's highest mountain peaks and finally arrive in one of the most famous mountain resort towns in North America.
A quick note on Canadian Geography and Distances
While being from Canada means we're often immune to it's many charms, we do know that a visit to Canada is on many peoples travel bucket list. Covering a huge portion of land between the Pacific and Atlantic Oceans and as far north as the North Pole, the terrain and people you'll meet in Canada are as varied as anyplace you'll find on Earth.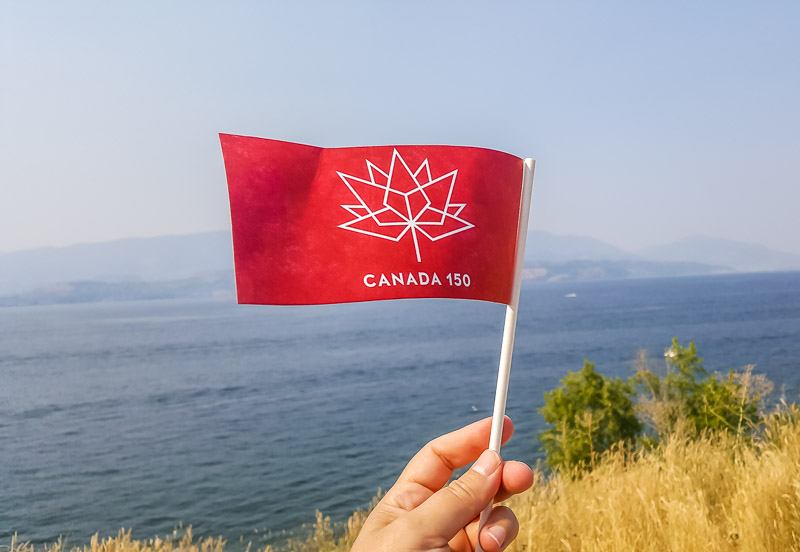 Starting on the west coast you have gorgeous coastal areas leading into the majestic Rocky Mountains followed by miles of grassy rolling hills that lead to seemingly never ending prairies in the center of Canada. From there you hit the many small lakes and hills of the rock covered Canadian Shield before finally arriving at the Great Lakes themselves which then leads you the Appalachian Uplands and back down to the Atlantic ocean. And that's only if you travel in a straight line!
Over the years we've met numerous travelers who've asked if they can land in Toronto and drive to Vancouver in a few days. Well, to be blunt, that's a 40+ hour straight drive with no stops through 5 provinces and is over 4,200 km or 2600 miles in distance.
If you actually wanted to drive Canada from side to side you're looking at over 80 hours of driving (7100 km or 4400 miles) and that doesn't include ferry time to Vancouver Island.
Needless to say, visiting Canada from Coast by vehicle is way more than you're going to manage in a weekend or even a few weeks if you actually want to experience any of our varied country. It's also why Canadians tend to measure our distances in hours rather than kilometers and you'll see that happening right across the country. Finally, if you're renting a car for your travels, make sure to get car insurance now.
The Ultimate Vancouver to Banff Road Trip
One popular driving route that we do often recommend to visitors is the Vancouver to Banff road trip. It's a beautiful 10 hour drive through the Rocky Mountains that has plenty of things to offer no matter what time of year you get here. Of course, stopping and checking out the sites isn't included in that 10 hour time frame so choose when and where to stop as you see fit.
So, sit back and enjoy the ride as we present to you the ultimate Vancouver to Banff road trip with a few possible stops and things to see along the way.
This list is by no means all encompassing but we will include a few notes on things to check out if time or the season permits. Also, while you can easily drive this distance in a day, we recommend taking a few days to get there to stop and enjoy a few of the regions highlights along the way.
Plenty of places to stop along the way
We start our journey in British Colombia's largest center and Canada's third largest city (after Toronto and Montreal). Sitting just north of Seattle, Vancouver is a great blend of nature and urban living with mile high skyscrapers overlooking dozens of beautiful parks and even more beautiful coastal waterways. The entire city is nestled in a large valley with ocean on one side and mountains on the other.
Vancouver, British Columbia
Whether you're jogging along the miles and miles of paved paths on the famous Vancouver Seawall, relaxing on the clean sands at Kitsilano Beach, checking out the restaurants and pubs in cobblestoned Gastown, ordering a microbrew on Granville Island or checking out Canada's largest urban park (the famed Stanley Park), Vancouver likely has something for you to enjoy.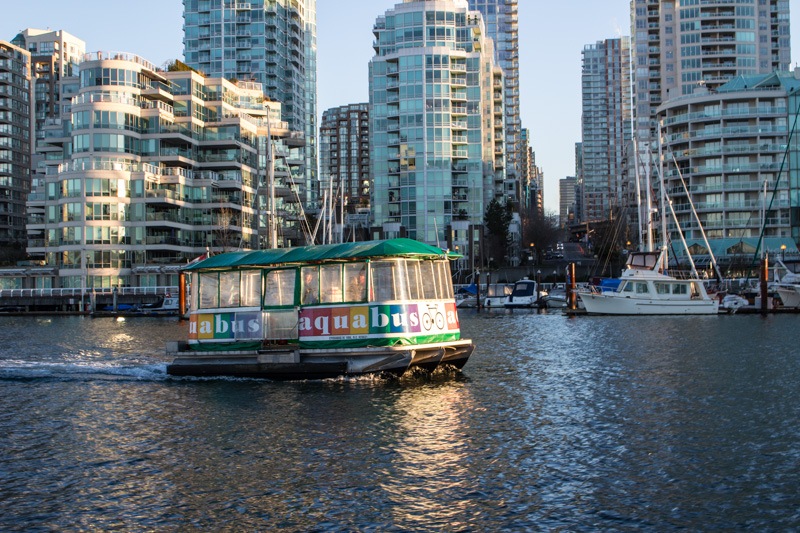 Some of the other great things to see and do in Vancouver include visiting the Vancouver Aquarium, touring the Granville Island Public Market, viewing the Museum of Anthropology on the sprawling grounds of the University of British Columbia, checking out the Orpheum Theatre for it's world renowned sympathy orchestra, going high end shopping along Robson Street, riding the Aquabus along False Creek From Hornby to Granville to The Village, climbing up grueling Grouse Mountain, visiting the Capilano Salmon Hatchery and taking the kids to the always impressive Science World.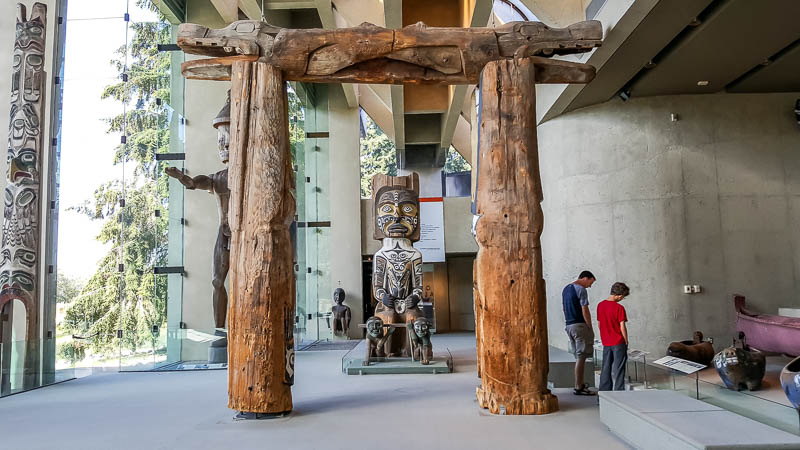 Vancouver is considered a foodie's dream come true with dozens of foods and flavor's calling the city home. With tons of cafes, pubs, bars and restaurants ranging from world class street food to some of North America's finest dining, Vancouver is also home to Canada's largest Chinatown.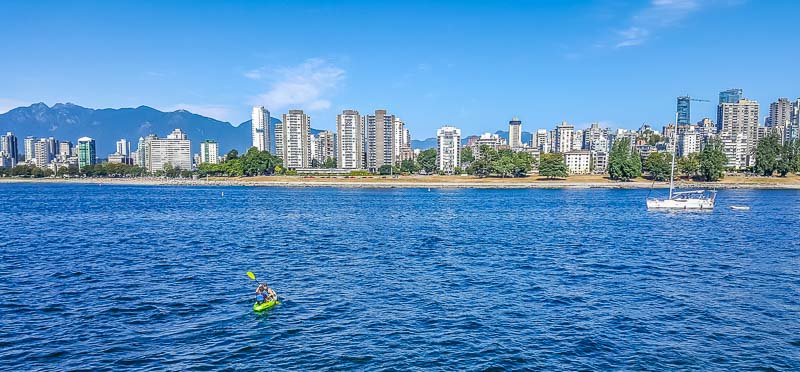 It's over a century old and also third in size in North America only to New York's and San Francisco's. Vancouver's Chinatown is overflowing with oriental foods and delicacies as well as many exotic spices and goods.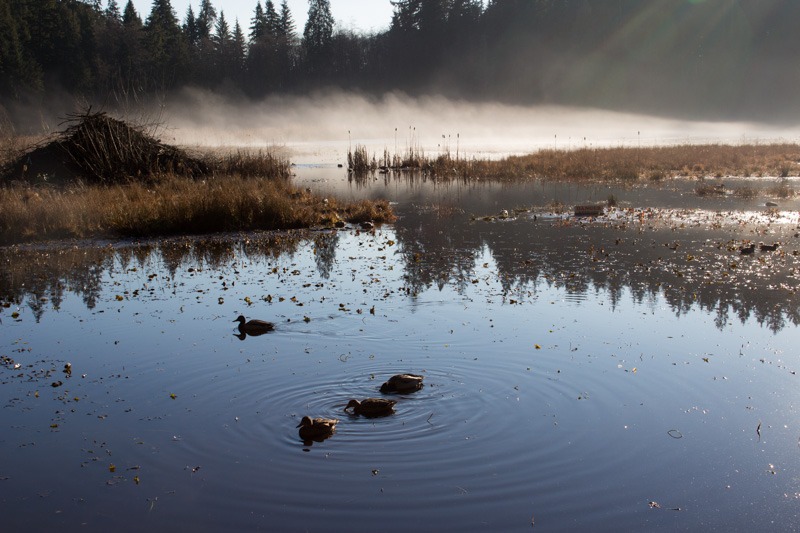 If you get tired of the urban life, not far from Vancouver's city center you can head north to Capilano Suspension Bridge Park and cross some breathtakingly high ravines or have a treetop walk in a true coastal rainforest. We actually prefer going a bit farther north to Lynn Canyon Park where the prices are cheaper but either place will be worth bringing your cameras if you value suspension bridges, waterfalls, deep ravines, gigantic trees and being completely surrounded in nature.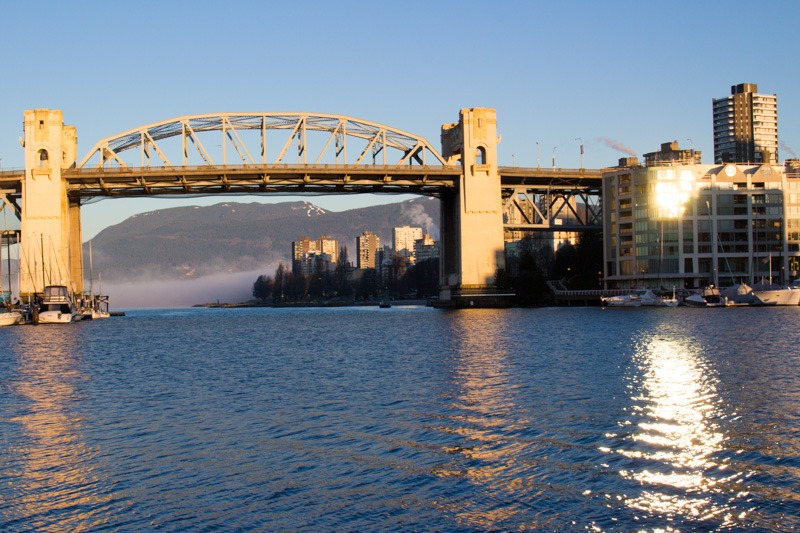 If you crave nightlife, the Granville Entertainment District is the place to be Vancouver (especially Friday and Saturday nights) with a long strip of nightclubs and enough neon lights to make Vegas proud. Gastown has tons of late night eats with more than a few pubs and micro breweries thrown in for good measure, Yaletown has some higher end bars, Kitsilano has some of the best sportsbars in the city and if you're looking for alternative lifestyles, then Davie Village is the place to be.
After you've had your fill of Vancouver, it's time to head east down Canada's only transcontinental highway, Highway 1.
Coquitlam, Surrey and Abbottsford, British Columbia
The Greater Vancouver area encompasses several communities however it's hard to discern where one area ends and another begins as you leave the city. Soon you'll be passing through Burnaby, home to the Simon Fraser University and the 3 storied juggernaut, Metrotown, BC's largest mall. If you have some shopping you want to do, pretty sure you'll find it at Metrotown.
Next areas on the list you have Port Moody and Coquitlam to your north (home to Mundy Park, a large urban park with great walking trails and 2 small lakes) and New Westminster to your south (famous for trendy pubs and it's cool Quayside Park where you can watch big boats moving up and down the waterways).
Next you'll cross the iconic Port Mann Bridge (make sure to have your camera ready) sitting over the mighty Fraser River, British Columbia's longest river and renowned for it's excellent fishing. The Fraser River also contains many of BC's larger hydro electric dams to the north and meets the ocean not too far from here so large boats can be seen on either side of the bridge at all hours of the day.
Soon you will be arriving in Surrey and if you love old electric trams then you can check out the Fraser Valley Heritage Railway where you get to ride an old streetcar and learn about Vancouvers electric train history. If it's a hot day, White Rock is a very popular beach and if you want to miss the crowds then Crescent Beach is also popular but often less crowded.
The next city on the list is Abbottsford. Well known for it's excellent blueberries in late summer (make sure to stop off the highway and buy a basket of them for your Vancouver to Banff road trip), it also houses Clayburn Village with a great little old style candy shop and tea house that's worth a peruse.
Chilliwack, British Columbia
As you leave Abbottsford, you have some decisions to make depending on the time of year and what you value most. Chilliwack is a good sized working city but it's greatest attractions lie to the south and the east of the city proper. Essentially, if it's summer time, you can head south for a fun day at Cultus Lake Adventure Park, a huge sprawling waterpark with rides and amusements for the whole family. It's a guaranteed fun day and we have friends that make the pilgrimage out there every summer with their kids.
If you want to get out and see nature (and have some beautiful pictures), make sure you check out Bridal Veil Falls Waterfall to the east of Chilliwack. The falls are beautiful to see the majority of the year and there's some great hiking in the area. The falls are a vertical 10 minute hike so make sure you're up for it but most people have no problem hiking up to see them.
Agassiz and Hope, British Columbia
On the other side of Chilliwack, you'll be driving into Agassiz. It's a sleepy little community however now you have a choice of continuing on to Hope or to driving up to Harrison Hot Springs. We love staying in Harrison Hot Springs however it's not as much as a quick stop as it is a destination in it's own right. Nestled along the shores of picturesque Harrison Lake lies Harrison Hot Springs Resort (and for which the neighboring town is named for).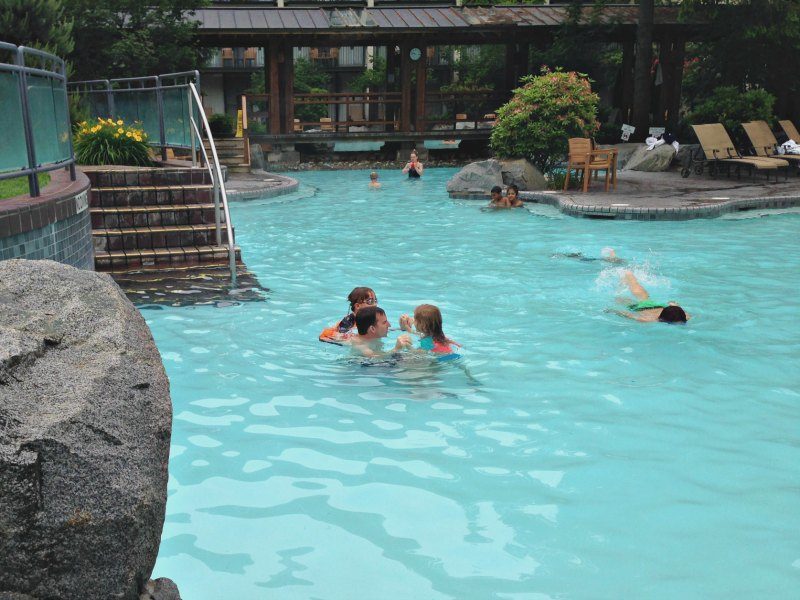 With five spring fed hot mineral pools on site, it's easy to lounge the day (and night away). While the once opulent hotel has seen better days, it's the only place in town to fully soak in the natural pools. While pool use is included with your stay, they sometimes allow day passes. Please check before you go though just to be sure.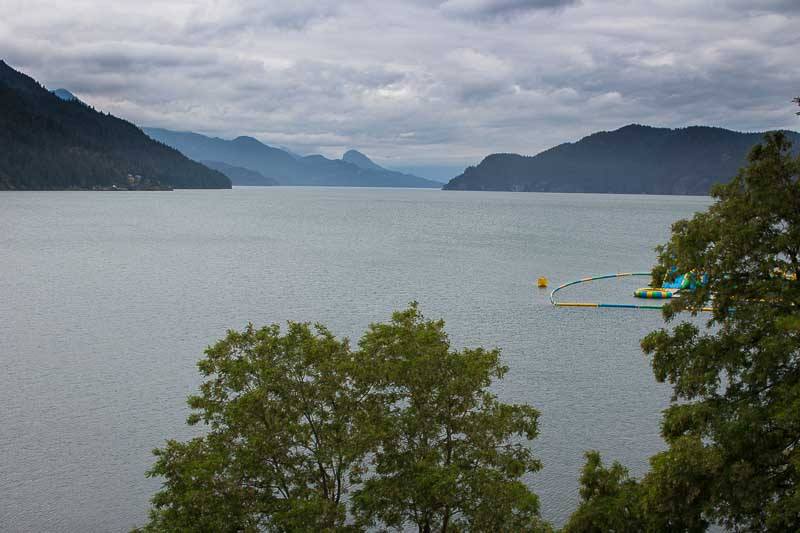 Regardless of whether you stop in Harrison Hot Springs, make sure you fill up your car in Hope. It's well over an hour until you'll see the next gas station in Merritt.
From Hope you'll be getting off the Trans Canada Highway #1 and taking highway #5, the Coquihalla Highway. Not only will it speed up your travels, this newer highway takes you past the unforgettable Othello Tunnels.
The Othello Tunnels were first built back in 1914 as part of the Kettle Valley Railroad and include a series of five large tunnels originally built for railway access but were closed down in the 60's and are now part of the Trans Canada Trail system (a walkable trail that spans the length of Canada). Constructed through a mountain of native granite and connected by trestles over the 300m high Coquihalla Gorge, the Othello Tunnels aren't something that should be missed.
As you leave the trestles, enjoy the scenery as you cruise along Canada's famed Highway Through Hell, as seen on the Discovery Channel. Don't worry, unless you happen to be driving through a snowstorm you'll be fine (and even then just slow down and you'll be fine). In the summer it's a nice drive as you arrive into Merritt.
Merritt, British Columbia
Merritt is famous for it's yearly country music festival, the Rockin River Music Fest that it holds towards the end of July every year. Famous country singers from Willie Nelson to Toby Keith to Travis Tritt to Keith Urban to Tim McGraw have graced its stage and hung out in their huge campground.
As you leave Merritt, you're going to want to leave Highway 5 and head south down Highway 5A towards Kelowna. If you didn't fill up in Hope then definitely fill up before you leave Merritt since it's another hour and 20 minutes before you get into Kelowna and see your first gas station. Highway 5A will change into the Okanagan Connector at one point so just stay on Highway 97 towards Kelowna and you'll be fine.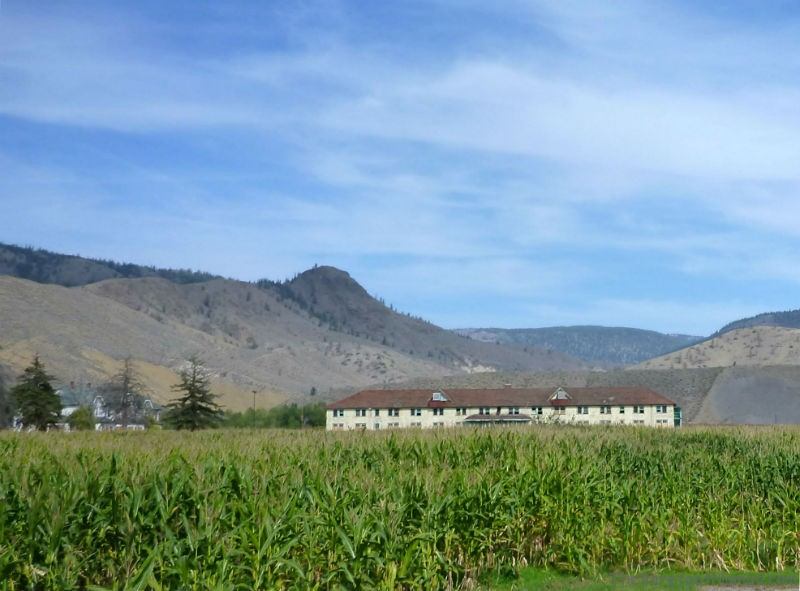 Kelowna, British Columbia
Now we might be biased (since we're currently based out of Kelowna) however Kelowna and the Okanagan have a ton to offer people. From award winning wineries to beautiful beaches and gorgeous parks, the Okanagan Valley in BC is a great place to be and one of the warmest areas in Canada. The main highlight is the 135 km (84 mi) long Okanagan Lake that ties the valley together (also one of the only lakes in Canada that never freezes).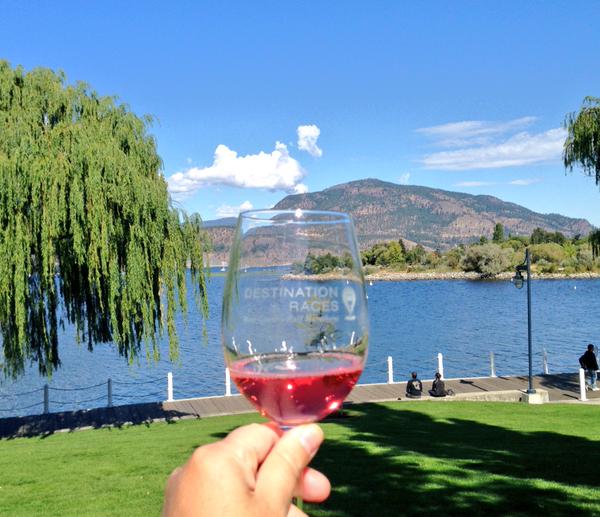 With over 182 licenced wineries in the valley, if you're a wine lover you can spend days just hopping from one vineyard to another. If you prefer cider there are dozens of cideries plus tons of microbrewers as well in Kelowna proper.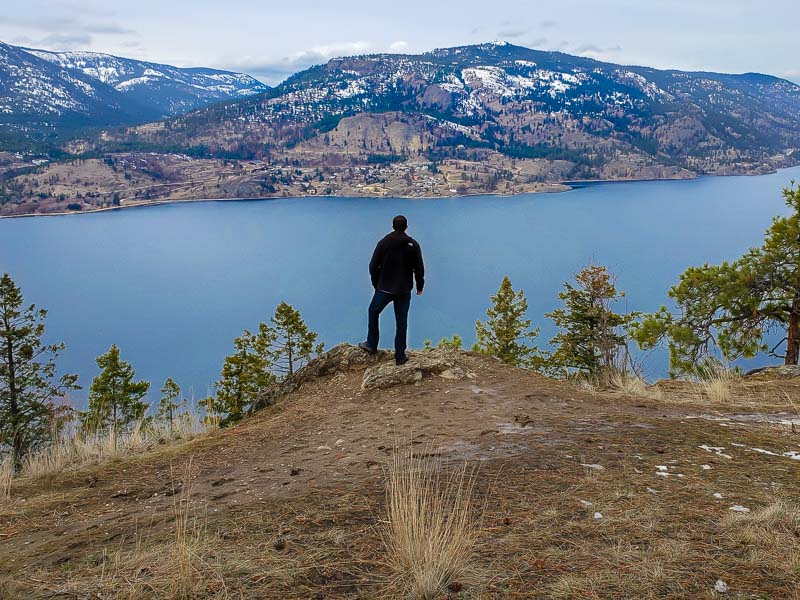 While of course we can't list them all, if you only have time for a few wineries then these are some of our favorites with the most ambience (though not necessarily our favorite wines) and the ones we'll often bring new visitors to see:
West Kelowna:
Mission Hill Family Estate Winery – Fabulous architecture high on the hill and gorgeously manicured grounds, this place is considered royalty in the valley.
Quails Gate Winery – As well as having a delicious restaurant, they let you wander around the rows of vines and also offer an affordable tour (when available) to show behind the scenes of a working vineyard.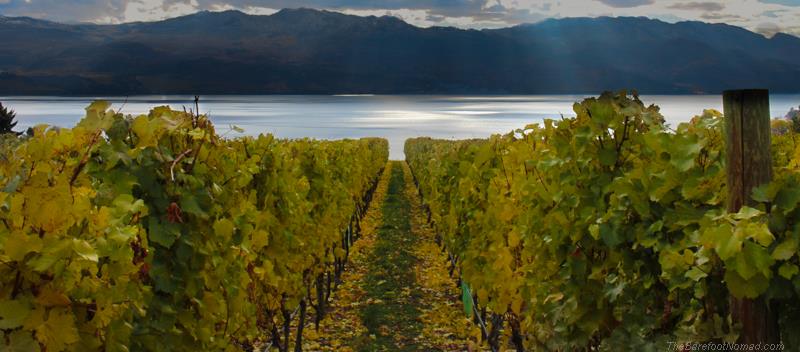 Kelowna:
Summerhill Pyramid Winery – Known for their white pyramid and nice views across the lake on the opposite side of Mission and Quails Gate they also have a popular restaurant.
Soma Craft Cidery – Nestled in the woods in a park like setting on the east side of Kelowna, this place has delicious cider, a Farm Inn you can stay at and llamas you can feed.
BC Tree Fruits Cider Co – This place is part of a fruit packing plant in the industrial section of Kelowna so isn't pretty like the others on this list however the cider is tasty (and they have a large selection) plus you can walk next door to their market where they have a dozen different local apples you can buy year round to enjoy on your roadtrip.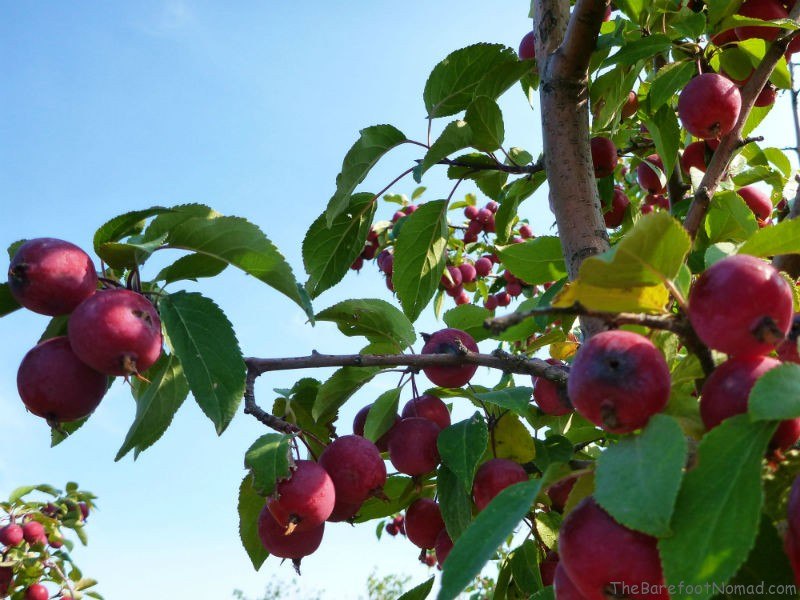 Lake Country:
Grey Monk Estate Winery – Scenic drive and tasty port (try it with chocolate!) on the way towards Vernon. It's worth the drive plus there are 2 other trendy vineyards (Ex Nihilio and ArrowLeaf that are only a few blocks away) that have great food in season (make sure to book first if you're wanting to eat at either place in the summer though.)
If you love fruit, there are orchards everywhere in the valley with fruit stands everywhere selling everything from 50 different apple varieties (September to October with some available at BC Tree Fruits near year round) to some of the best peaches you'll find anywhere on earth (mid July to early September). Cherries are in season the beginning of July and there are plenty of u-pick centers if you've never had the good fortune of picking them straight off a tree (just try not to eat them all so you have some to take with you on the rest of your roadtrip).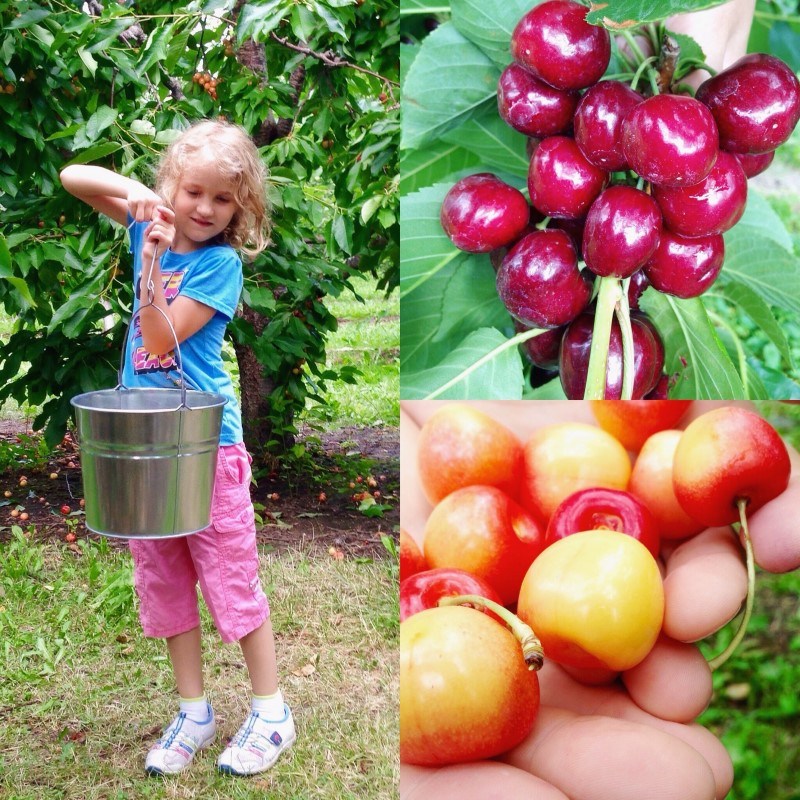 We've written several guides on fun things to do in Kelowna so I won't rewrite it all here but you have the lake and dozens of beaches in the summer and Big White, an internationally acclaimed ski resort just 30 minutes south of Kelowna in the winter that will rival any ski hill on earth. For the rest of the year you have tons of great trails, hikes, pubs, restaurants and activities to make your time here fly by.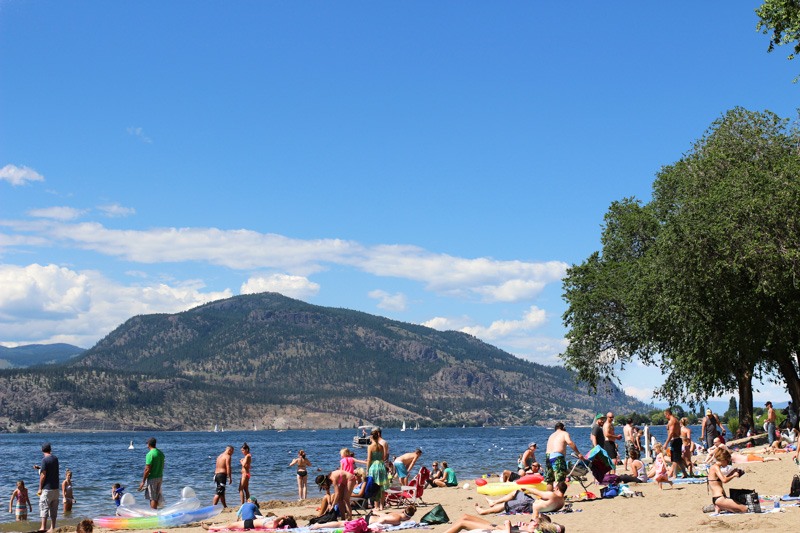 As you leave Kelowna east on Highway 97 towards Vernon, make sure to pay attention to the lakes on the right. The high on the hill view of green tinged mineral Kalamalka Lake is always impressive and soon you'll be in Vernon which also happens to be about the midpoint of your trip from Vancouver to Banff. Congrats for making it this far!
Vernon, British Colombia
Vernon has tons to offer including another well loved ski hill, Silverstar Mountain. If you're here in the winter and enjoy downhill skiing then it's another great option after Big White.
Vernon also has multiple beach areas (some on Kalamalka and some on Okanagan Lake) and is also home to Splashdown Vernon, a small but fun outdoor waterpark. Vernon is also full of restaurants and has a popular brewery (OK Brewery) right in town that gives tours.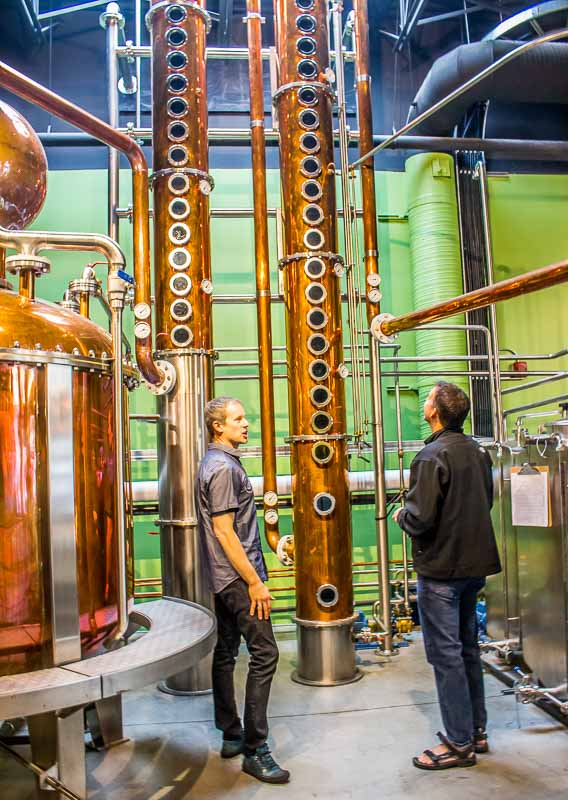 Vernon is also home to Okanagan Spirits Craft Distillery and if you like whisky and gin or fruit infused spirits then definitely swing by and taste their liqueurs and grab a bottle to take home with you.
As you continue out of Vernon on Highway 97A North, you'll soon pass through Armstrong.
Armstrong, British Columbia
Armstrong, known throughout Canada for their Armstrong Cheese and specifically their squeaky cheese, the company unfortunately no longer offers tours at their factory. If you're feeling a bit peckish, feel free to stop at The Village Cheese Company for some artisan cheese samples and small tour. They even have their own brand of squeaky cheese if you've never had it!
If you love kitschy highway stops, then make sure to stop at the Log Barn 1912 before you reach Enderby. Don't worry about spotting it, there are a dozen signs pointing to it and if the large dinosaurs, dragons and sculptures sitting outside don't catch your attention then you really shouldn't be driving! There's a shop inside with ice cream, candy and wacky souvenirs as well as a quick walk around the grounds gives you a minute to stretch your legs.
Enderby, British Columbia
Enderby is a cute little town but it's major claim to fame is the Starlight Drive-In. The 6,000 square foot screen to the south of town is the biggest drive-in movie screen in North America and one of the last in Canada. Operating from June until September, it makes a great night out with the family. If you happen to make it then and decide to catch a movie, Salmon Arm is only 20 minutes away and has more hotels than Enderby does.
If you don't need a place to sleep, then continue up Highway 97A towards Sicamous. This is a gorgeous drive right along the edge of Mara Lake and while you'll likely lose 10 minutes rather than going up through Salmon Arm I promise you'll enjoy it.
Sicamous, British Columbia
As you arrive into Sicamous proper, you'll need to take a right onto Highway 1 heading east. Don't worry, you'll stay on Highway 1 for the rest of your ultimate Vancouver to Banff roadtrip so don't worry about maps for a while. Just go east wayward traveler.
When we pass through Sicamous we often fill up our gas tank. Soon we'll be crossing into the Rockies and gas prices go up 10 cents a liter once you hit Revelstoke. Weirdly, Golden is always cheaper than Revelstoke and is another option if you can easily make it another 220 km on your current tank.
If you enjoy dairy farms and ice cream, then D Dutchmen Dairy in Sicamous is a must stop. Fresh homemade ice cream and the ability to walk through a real working dairy farm with cows and a small menagerie of animals out back. They also have a great little fruit and veggie stand (the last real one on your journey) right across the street from June to September. Follow the signs as you turn onto Highway 1 and it will be on your right.
We now continue our road trip towards Revelstoke however first we have 2 interesting stops you might want to check out. First up is Crazy Creek Hot Pools, about 20 minutes east of Sicamous. This little 4 season roadside resort offers hot spring to it's weary travelers from 9am to 9pm 365 days a year. Best part is that no reservations are required so if you're up for a hot dip then nothing is stopping you.
5 Minutes further down the road from the hot springs you have the sister attractions of The Enchanted Forest and SkyTrek Adventure Park. Both are open from June to September. The Enchanted Forest is a nature walk through a magical land of castles, miniature houses and a giant treehouse while SkyTrek is an aerial adventure park that will have you climbing, jumping and zip lining from one treetop platform to another.
10 minutes east of the adventure park you'll find Three Valley Gap where you'll catch a glimpse of history as this old ghost town harkens back to the 1800's and pioneer days of a British Columbia western town. The distinct Three Valley Lake Chateau on the banks of the lake also makes a great picture spot before you keep heading east to Revelstoke.
Revelstoke, British Columbia
Revelstoke is an old train town with plenty of ties to the railroad. We always enjoy walking along the raging Columbia River as we pull into town to stretch our legs a bit. If you turn right immediately as you cross the bridge there is a small park next to the road. Leave your car in the parking lot then follow the pathway left under the train bridge.
If you love trains than the Revelstoke train museum shouldn't be missed and if you're there when it's open, a quick 30 minute guided tour of the Revelstoke Hydro Dam makes for an interesting diversion.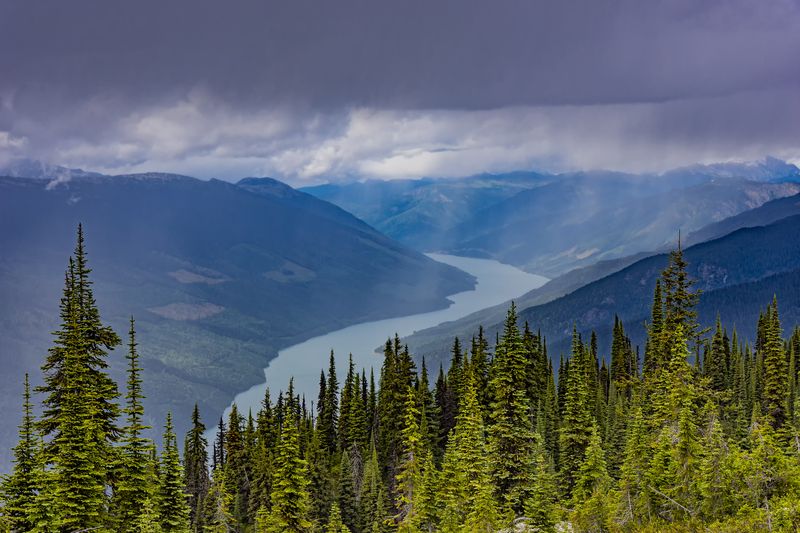 Another popular attraction in Revelstoke is Revelstoke Mountain Resort. In the summer they have downhill biking and the Pipe Mountain Coaster, which features 1.4 kilometres of twists and turns as you hurtle down a mountain on a small rollercoaster while travelling at speeds of up to 42 kph. In the winter the park receives 30 to 40 feet of snow and the ski hill features a descent of 1,713 vertical meters (5,620 feet) – the most in North America.
Heading east down Highway 1, we're now on our way to Golden, BC.
Glacier and Rogers Pass, British Columbia
As we leave Revelstoke, we soon reach Skunk Cabbage Boardwalk Trail and Giant Cedars Boardwalk Trail. Both are greatly named and fun little hikes. The one you don't want to miss though is Giant Cedars Boardwalk. It's a quick 20 minute walk along a well signed wooden boardwalk through some of the largest cedar trees you're ever likely to find.
Only a few minutes farther up the highway you'll find Alberta Canyon and the Canyon Hot Springs Resort. Unlike Crazy Creek, these hot pools are only open from May to September and they also offer cabins and campsites if you're making the trip pulling a camper of RV.
From Revelstoke to Golden you're going to be climbing like crazy with the peak just between Glacier and Rogers Pass. This is the highest point of the Trans-Canada highway so be proud. You made it to the top and now it's just smooth sailing from here on out. If you need a bit of a stretch make sure you check out the Rogers Pass National Historic Site. If it's the middle of winter, just take a picture of those 20 foot tall snowbanks to each side of your car as you continue east to Golden.
Right before you get to Golden, you'll reach the Northern Lights Wildlife Wolf Centre. It's a wolf habitat and interpretive center that's open to tours year round (no reservations required) and gets you up close and personal with some real North American wolves.
Golden, British Columbia
Golden is a great mountain town that always surprises us with the new things we find to do there. One thing to do is you can check out the Golden SkyBridge. Open from June to October, Canada's highest suspension bridge traverses 426 feet above an wide canyon and features a zipline, climbing ropes and a canyon swing if you can handle your heights.
If you love water and adrenaline, Golden is Canada's whitewater rafting capital with several white water rafting companies operating in town. Rafting excursions run along the fast flowing Kicking Horse River all summer long and most rafting companies have offices either in Golden or just east of the city.
If you want to stretch your legs, there is a beautiful covered pedestrian bridge spanning a portion of the river next to the Porcelain Garden park close to downtown. There are several restaurants and pubs nearby as well if you want to grab a bite to eat.
As we leave Golden, we'll soon find ourselves in a different province and a different time zone so get ready to set your clocks an hour forward!
Before that though, you might want to pull over in a few areas (like Faeder Lake, Finn Creek or Natural Bridge) and take some pictures. From Golden to Lake Louise the rivers and lakes start taking on a turquoise glow due to their high clarity and mineral content that is hard to resist photographing. From little waterfalls here and there to some of the most breathtaking mountain scenery, your head will be whipping side to side never knowing which side of the car you should be looking.
If you're lucky you'll spot a giant grizzly or maybe a giant moose. Bighorn sheep and large elk are also often spotted along the highways and if you see a bunch of cars pulled over or clumped together there's a good chance there's an animal nearby.
Field, British Columbia
One thing you'll need as you drive towards Banff and Lake Louise is a National Park Pass. Park passes can be bought ahead of time or from certain vendors. Visitors arriving from Calgary and the west can easily purchase their passes as they pass into the Banff National Park however visitors coming from the east don't have access to a kiosk. It's suggested for you to either pre-purchase one online here or at one of the approved locations like the Yoho National Park Visitor Center just off Highway 1 in Field.
The good news is that if you purchase a National Park pass for the year, they are good across the country and this pass also gives you access to breathtaking Takakkaw Falls on the other side of Field. So does a day pass so don't fret, you just get more time to explore this cool region.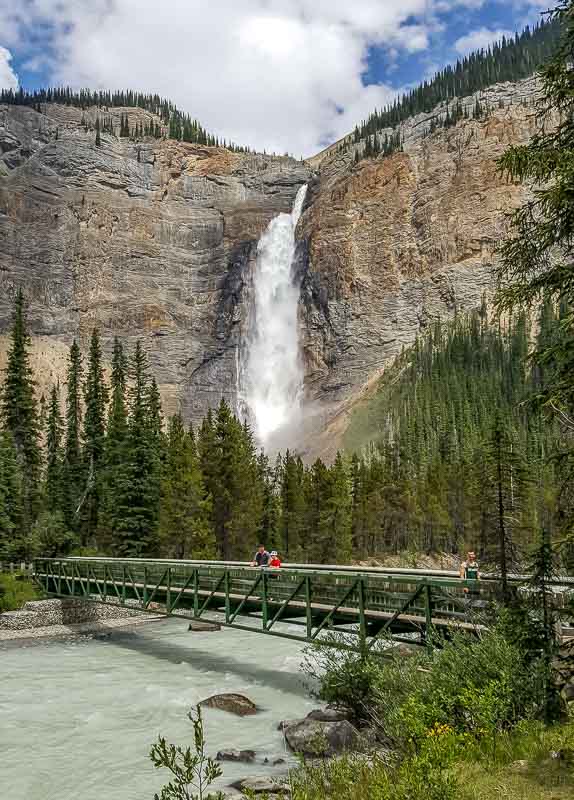 Takakkaw Falls in Yoho National Park is accessible June to October and can be reached by a 10 minute drive along Yoho Valley Road just off Highway 1 a few minutes past Field. There is a nice park at the end and a short 10 minute walk (1.3km) that will bring you within sight of Takakkaw Falls. With a total height of 373 metres (1,224 ft) and a single drop of 254 metres (833 ft), this glacier fed body of water makes them the second tallest waterfall in Canada.
As we head east and finally cross into Alberta, set your clocks ahead 1 hour…. Now!
Lake Louise, Alberta
Beautiful turquoise lake? Check. Beautiful chateau? Check. World class skiing? Double check.
What Lake Louise lacks in amenities, it makes up for with unrivalled beauty. If you can ignore the hordes of people, walking around the cloudy turquoise waters of Lake Louise can be magical.
Whether you rent a canoe and explore the lake from above the water or decide to grab your walking shoes and head to the right past Chateau Lake Louise along Lakeshore Trail is up to you. Walking to the end of the trail or just stopping on one of the many benches and just enjoying the relative quiet compared to the main area, now is a perfect time to take a picture. If you can get one with one of the red canoes framed just right you might even decide to frame it.
If you happen to be here in the winter, while you won't be able to see that turquoise glow, you might be lucky enough to strap on some skates and skate over it. Nicely groomed for most of the winter, you can rent skates right by the water or in town. Feel free to check out some other nearby lakes for skating as well.
While Lake Louise gets all the attention, Moirane Lake is equally as pretty and some even think it's prettier. Regardless, it's definitely less busy and has some more challenging hikes if you're so inclined to take them.
Another great hike people enjoy is the hike up to the Lake Agnes Tea House. While it's not a crazy far, the 7.2km round trip hike does play on you if you're not accustomed to hiking at this elevation.
Skiing and snow boarding are of course the other half of Lake Louise's appeal. When the ground starts to freeze and the snows come thick, Lake Louise becomes one the best ski hills in the country. On nice winter days, it's not uncommon to see a steady line of cars driving in from Calgary and the highway looks more like a living being rather than pavement.
If you happen to be staying in Lake Louise itself, Chateau Lake Louise is a gorgeous option however there are more options in town plus some great fireside pubs to cozy up to anytime of the year.
Finally, even if it's the middle of summer, take a gondola ride up the ski hill. You're almost guaranteed to see some wildlife and the view from the top makes the gondola ride so worth it. If it's winter, grab you board and enjoy!
As we take our final leg east towards Banff, it's time to congratulate yourself. You've just made it through some of the worst passages in the world and lived to tell the tale. Now just imagine those brave men and women who first crossed those mountains and tamed that wilderness to get us where we are now. 2 months travels in under 9 hours of driving. Love it!
If you have a little more time (roughly an extra 20 minutes) and want to see some more gorgeous country with a better chance to get up close with animals and nature, jumping off of Highway 1 in Lake Louise and heading to Banff along Highway 1A (the Bow Valley Parkway) is a solid choice (just ensure the roads are fully open first). Castle Cliff, Silverton Falls, Johnston Canyon, Backswamp and Bow Valley Parkway are all picturesque diversions.
If you're here to ski or snowboard, Sunshine Mountain is another great ski hill and is often the first hill to open every year. With some epic snowfall, it's always a favorite with locals.
Banff, Alberta
As we finally pull into Canada's premier mountain town, the urge to party all night can be strong. Don't give in, even though the party never stops in Banff, you've just had a long day and it's time for a rest.
In the morning you can check out some of Banff's best sites and activities. From skiing nearby Mount Norquay in the winter to riding up Sulphur mountain on the Gondola in summer there's plenty to do. (If you're up for climbing the hill yourself they give you a free lift down! Budget 2 solid hours.)
You can hike or bike down to beautiful Bow Falls, drive up Tunnel Mountain looking for elk (they're everywhere up there) or check out the sulfuric delights of the Banff Cave and Basin National Historic Site. There are horseback tours, biking tours, boating tours and even canyon and rappelling tours.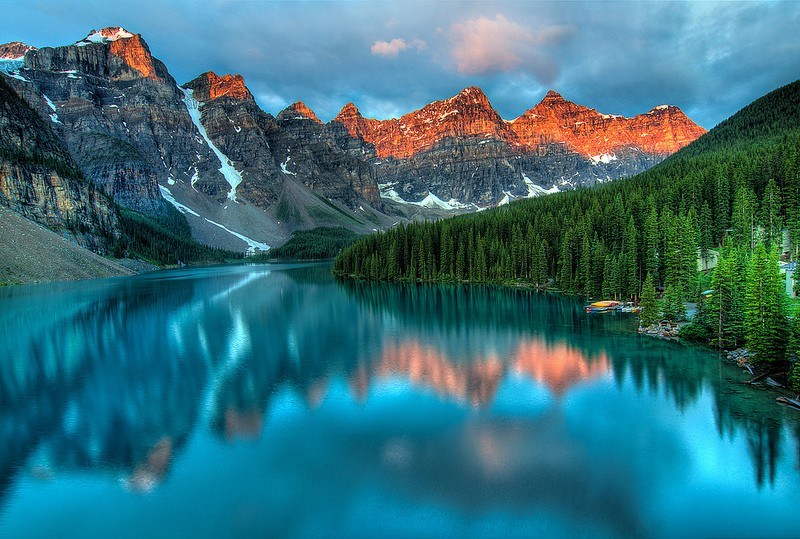 Of course you'll want to check out the Rocky Mountain Chocolate factory and eat at some top class restaurants while you're here. Whether you stay at the Banff Fairmont Springs or not, you definitely need to drive up there and walk around the place as well. The hotel exudes old world charm and is definitely worth checking out.
After all that driving, you'll likely want to soak your troubles away in the Banff Upper Hot Springs. Open year round these, the naturally fed hot springs are a great way to unwind after a few hard days behind the wheel.
With that, we're at the end. We hope you enjoyed your ultimate Vancouver to Banff roadtrip and hope you get to continue to explore more of Canada during your trip.
Getting back to Calgary and other notes
While there are no commercial airports in Banff, many people choose to land or leave Banff through Calgary since it's a major city and less than an hour from Banff by car or bus shuttle. If you're flying in from Toronto, the east coast of Canada or some other country, just reverse this list and start at the bottom and you'll be fine.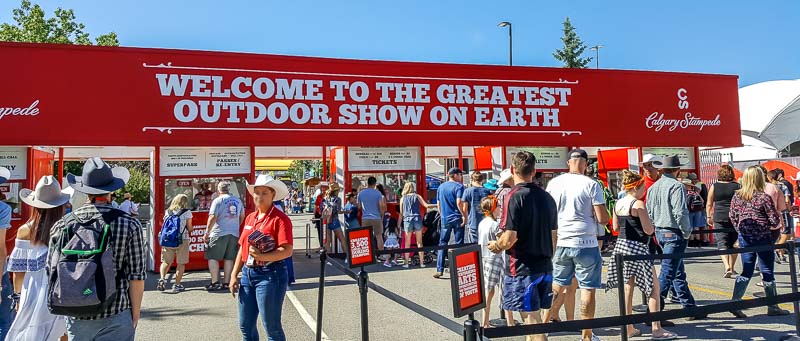 Let us know if we forgot anything that should be on this list. Safe travels and welcome to Canada!