Whoever first decided to stick two thin bits of wood together and strap their feet onto them before sending it down a mountain at high altitude was clearly a little bit insane …but we thank you. If it was not you we would not know that feeling of flying down fresh powder, waking up to blue skies and curing hangovers with mountain fresh air, beers on mountain tops, tunes echoing around pistes, friends made on ski lifts and falling in love with seasonaires (happens).
The Austrian Alps are wicked for yodelling and singing Sound of Music-style, but once the temps drop, we're all about the ski mountains, baby. Whether you're tearing it up on the black diamond slopes, owning the bunny hills, getting in some quality cardio with cross-country skiing or just there for the awesome après, there's a whole lot of ski fun to be had in Austria.. So get ya lift pass out and jump in that cable car and check out these 10 options and get ready to spend your winter on some real slopes…
10. Hopfgarten
If you're looking for a combo of epic skiing, authentic Austrian ski village charm and drop-dead gorgeous scenery, Skiwelt Hopfgarten is the place to be. The high altitude gives you the best panoramic views in the area (Insta heaven) and Hopfgarten has the perfect range of slopes for every skill level. The larger Skiwelt resort that contains Hopfgarten is one of the Largest ski areas and best ski resorts in the world, and Hopfy is the sunniest of the slopes in the region! (so go get yourself one of them Kardashian ski goggle tans).
One of the best parts of Hopfgarten is just how convenient and compact everything is, so you can easily navigate between the slopes, après and town (even after a beer or two) without wasting precious time…and we don't have time to waste. At the foot of the ski hill, you'll find the most adorable ski village you'll want to pick up and stick it in your pocket, as well as Contiki's legendary and newly renovated Chalet Schöneck that's perfectly decked out with everything you need to live your best life in Austria. You can enjoy the Chalet as part of our skiing trips or book accommodation only. Fancy.
Hopfy is definitely a skiing haven, but it's managed to maintain its quaint and local charm, which makes it the perfect choice for winter lovers. It also offers beaut snow conditions, some huge slopes, over 180 pistes for beginner skiers, intimidate skiers and intense runs for the more adventurous skiers as well.
Do it on: Austria Ski Only (meet us there)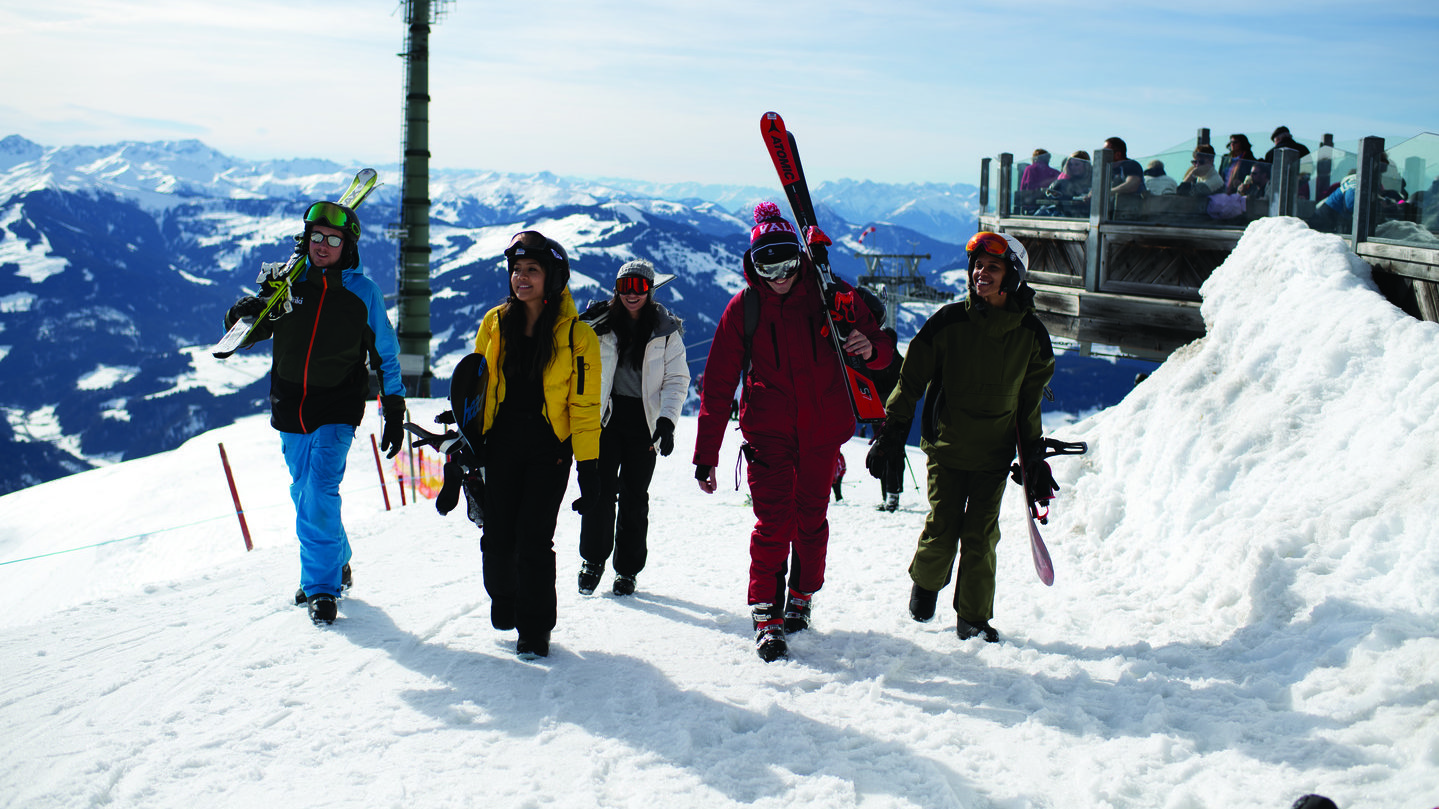 9. Alpbach
Any Austria ski list should include the small but mighty Alpbach ski resort for a few reasons. The timber houses of Alpach village are some of the most picturesque in all of Austria and make for the perfect backdrop for a winter escape worthy of the 'gram. It's even been rated one of the prettiest places in Austria on multiple occasions.
The skiing at Alpbach is also high quality and offers access to 46 lifts with a wide variety of over 80 pistes. It's one of the quaintest and most stunning places you can get great skiing in, but the scenery really is the cherry on top here.
8. Lech
The Lech Austria ski resort has over 200 pistes, so you'll want to upgrade that lift pass and take full advantage of that lift system… and it is a think of beauty. Known for being super snowy (which, you know, is always handy when you want to go skiing) it also features one of the steepest ski hills in the world – Lange Zug with an 80% slope (careful out there kids). Lech also has an extensive off-piste network of runs that's perfect for your inner adventurer.
The isolated nature of Lech makes it a hotspot for wealthy and famous ski enthusiasts, and it can also be a bit difficult to access during bad weather as well, but once you get there, you may not ever want to leave (don't worry it is not a cult) It's great for all ski levels and is definitely a great choice for a more upscale vacay vibe, although you can definitely do it affordably as well cos well, we aren't made of money.
7. Kühtai
As glacier ski resorts go, Kuhtai has the Heights, the great après options and night skiing…it's basically THE place to go if you're looking for a little bit of everything great about Austria ski resorts. As the highest altitude resort in Austria you can count on Kühtai for snow all throughout the season and them frosty, frosty views in every direction to upgrade that hinge profile to say "Yeah, I ski".
The stellar selection of restaurants and bars mean the post-skiing activities are numerous, and the Kpark is a great place to try out your tricks in the snow parks and finally nail that halfpipe. Kühtai night skiing adds an awesome element to the day on every Wednesday and Saturday –it's a vibe!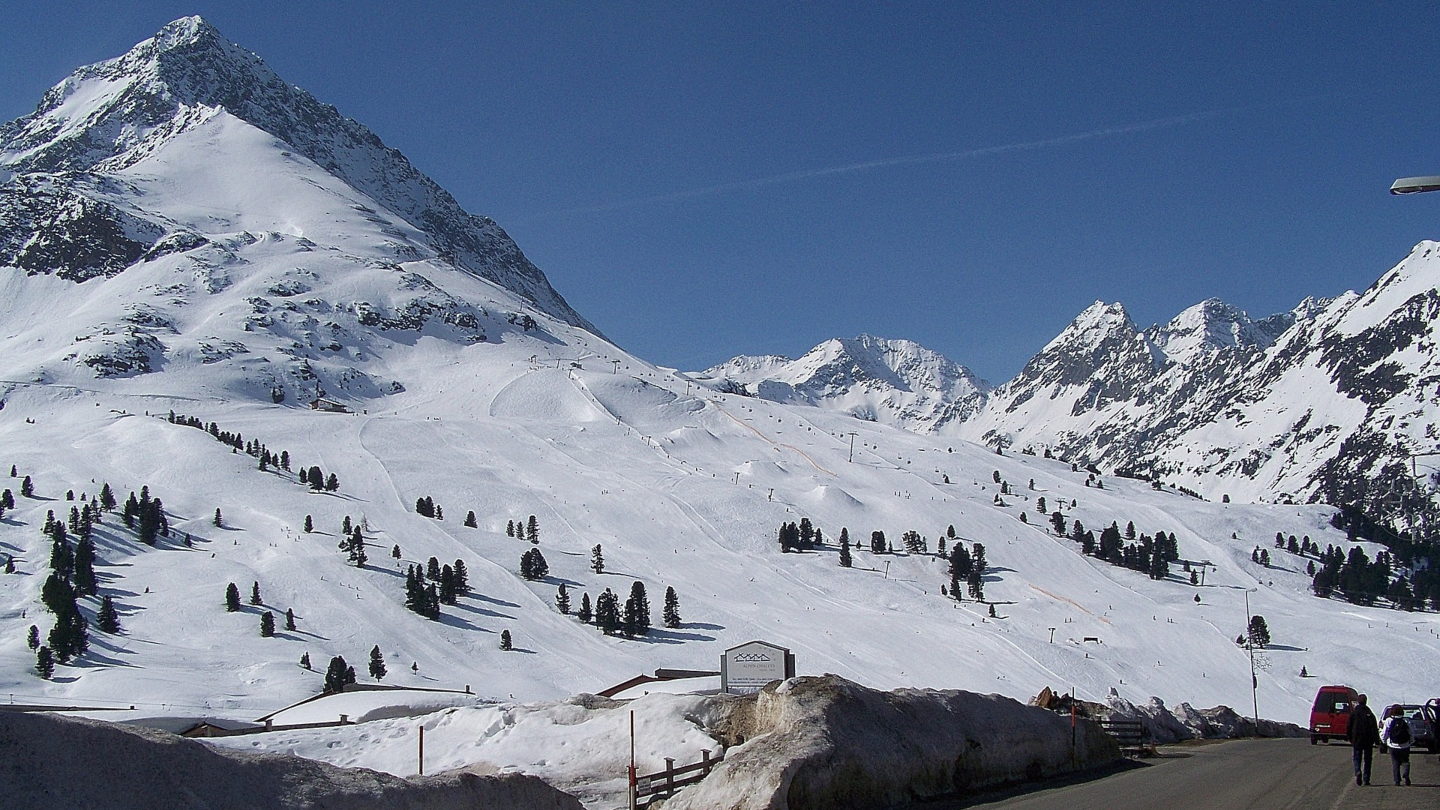 6. Ischgl
Following in the healthy après footsteps of number 7, Ischgl ski resort is the kind of young skier paradise that you'd envision on some glamorous reality show about socialites in a winter wonderland. The nightlife is top tier and the concerts are always a great time. If you're down for some actual skiing as well, Ischgl has over 140 pistes of varying difficulty plus tons of snow all season.
And if you're wondering where to eat in Ischgl, there are 15 delicious and varied options to choose from once you've earned your appetite on the slopes (or the dance floor).
5. Saalbach
If quaint isn't your scene, the Saalbach ski resort is the giant ski paradise you've been dreaming of and more. What to do in Saalbach is never a question, its sheer size offers so much skiing terrain to cover that you'll be lucky if you can do it all during your stay. There's a great selection of après and alternative activities at Saalbach as well, and the 60 ski huts provide endless foodie and beverage options. This is the perfect way to get cozy after a long skiing day.
Ready to hit the slopes for yourself? Suggested trip: Ski Austria
4. Mayrhofen
Mayrhofen you beauty: home to the BIGGEST snowboard & skiing festival in the WORLD, Mayrhofen has been attracting those across Europe for years. We are of course talking about Snowbombing, the self proclaimed original mountain music festival which takes place in April every year. Names like Stormzy, Fatboy Slim, Carl Cox, Bicep, Annie Mac, Liam Gallagher and Chase & Status have taken to the stage here.
When the festival isn't running you can still ski until your heart's content and the bravest of the brave can try out the insanely steep Harakiri piste, while everyone can appreciate their time in the world class après scene. Its also pretty close to Salzburg airport which is a plus!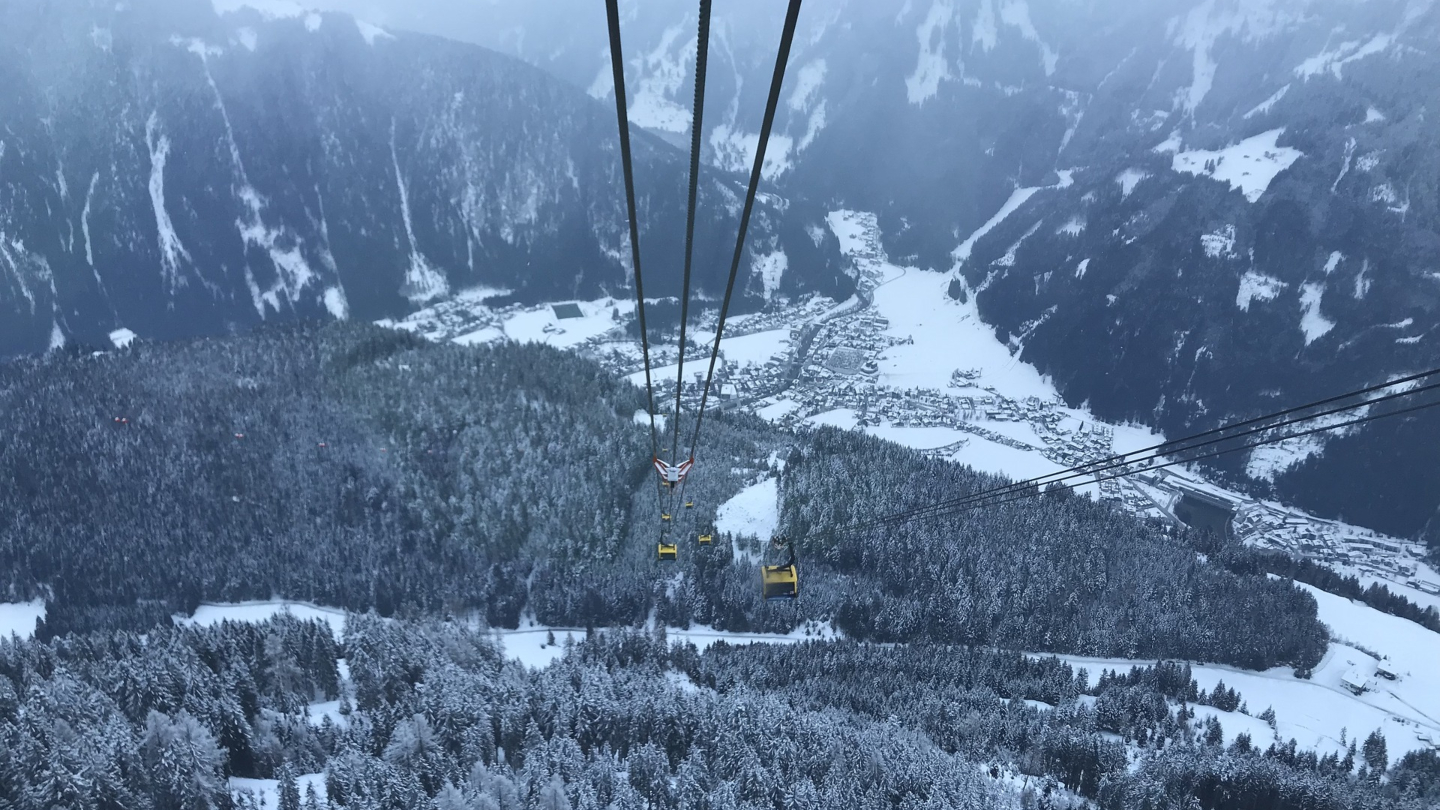 3. St. Anton
If you're the kind of winter lover who lives in ski boots, loves a party and is up for some intense skiing, then St. Anton ski resort may just be the Austrian paradise for you. Skiing in St. Anton is best suited for more advanced skiers (go on intermediate skiers, give it a go!) and the 50+ pistes will definitely put your moves to the test! While the terrain can be challenging, there's a ton of off-piste terrain to cover and activities for the less-advanced skiers in your circle too. The bars, clubs and great restaurants round out the St. Anton's experience with its truly epic après scene (just don't lose your lift pass).
2. Sölden
Another Austrian hotspot with altitude and attitude, Sölden ski resort brings epic views, superb snow conditions and even glacier skiing. Sölden has become a training ground for many of the top skiers in the world, and the high-quality lift and snow-making systems create the perfect atmosphere for some epic slope time. Plus add some 007 flair with a designated James Bond Adventure World, and you can genuinely live out your Spectre fantasies in the mountains!
The après ski scene at Sölden is solid, and the Electric Mountain Festival brings some of the best EDM to the Alps.
1. Kitzbühel
If you look at pretty much any shortlist of the best ski resorts in Austria, Kitzbühel ski resort is gonna make the cut. So what makes Kitzbühel the best of the best? Kitzbühel skiing is AMAZING and the 92 slopes on offer are pristine and provide near-perfect skiing conditions for all difficulty levels. Combine this with 60+ ski huts and foodie spots, plus the world-famous ski race of Hahnenkamm, which is said to be the most challenging in the world. The appeal is REAL.
Convinced yet that Austria is the place to ski this winter? Pack those snow pants and make it happen already!